Products manufactured by Alarwool S.L. are primarily aimed at the hotel and catering business and leisure sectors. With this in mind and with over 30 years experience, we manufacture all our carpets adapting to the conditions of fireproofing, quality and design of hotels, movie theaters, restaurants, casinos and nightclubs.
The main desire of Alarwool S.L. is that all our efforts be directed to offer you a product with the best quality, design and market price and that also suits the particular needs of your property. All carpets is made to order,
we do not keep any stock program, eliminating storage costs and inventory of materials. We are proud to produce one of the best quality carpets in the market and unquestionably the best price in the industry. Our design team works directly with the decorators, engineers and architects for each project in order to reproduce their ideas as accurately as possible and at the same time offer advice on the functionality of their designs. The resulting carpet, will not only be perfectly integrated in any environment, but will also be a lasting and sustainable product.
AXMINSTER
The carpets woven on Axminster looms offer the greatest flexibility and freedom in design and colors of the market. Alarwool S.L. has the most modern machines in Spain for the manufacture of this type of carpets fully automated and network-connected to the Design Department.
Its manufacture is similar to that of any other textile fabric with weft and warp in wool, cotton and jute interweaving in the loom in a solid and efficient manner. In Alarwool we have looms in different widths up to 4 meters, allowing us to adapt to the requirements of each project, eliminating as much as possible the losses and minimizing installation costs.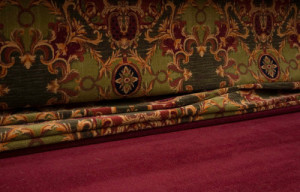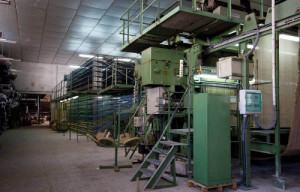 The versatility of this type of fabric allows unlimited production of designs with a maximum of 12 colors which, thanks to creel effects, enables us to achieve up to 22 colors.
The density of passes and the countless possibilities in terms of designs and colors undoubtedly make the carpets woven in these machines those that offer the best quality in the market. That is the reason why this is the quality specified by major international hotel chains such as Starwood, Hilton, Marriott, Fairmont, Four Seasons, Millenium, Kimpton, Sangrila, Mandarin Oriental, Intercontinental, Carnival Cruisses, Red Carnation Cruisses…
FACE TO FACE
The carpets woven in face-to-face looms have a greater density in number of weft yarns and warp so they are very resistant besides having dimensional stability unmatched in the industry.
Like the Axminster, it is woven carpet. Its main difference from any other type of carpet lies in the double structure allowing the manufacture of two carpets simultaneously. Later, the fabric is cut in half by a blade so that two symmetrical or facing end parts are obtained. For this reason, these looms produce a carpet of high quality and durability with excellent value. They are also extremely fast and efficient, able to produce rolls up to 4 m wide.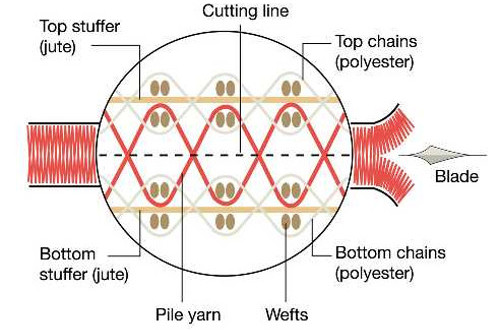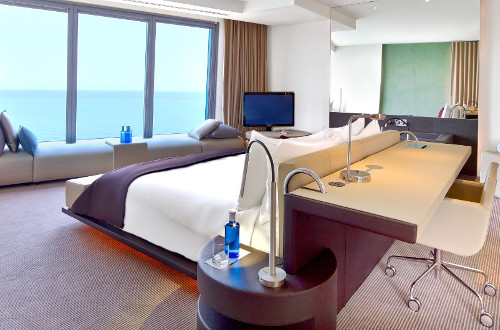 Face-to-face looms allow the manufacture of very sharply defined designs with shaft densities reaching 35 X 80 passes in 10 cm. This allows us to work with much finer wool than those used in any other loom. The result is a carpet of excellent quality, with a density twice that of Wilton or Axminster looms and a definition of design that cannot be compared with any other carpet in the market.
For its many qualities this is an increasingly important product for Alarwool, currently approved for major hotel chains such as Hilton, Milennium, Kimpton Group, Starwood, NH Hotels, Sol Melia Hotels, Park Plaza Hotels, etc.
WILTON
The carpets woven on Wilton looms have a special feature compared to other fabric types as it offers the possibility of manufacturing the plush in cut pile and loop allowing the development of unique and elegant designs and textile figures.
Technically, on Wilton looms the wool threads run continuously through the backing of the tissue, appearing on the surface of the carpet when requested by the design; the weft and warp intertwine with the plush threads on the loom forming a fabric of great consistency and solidity.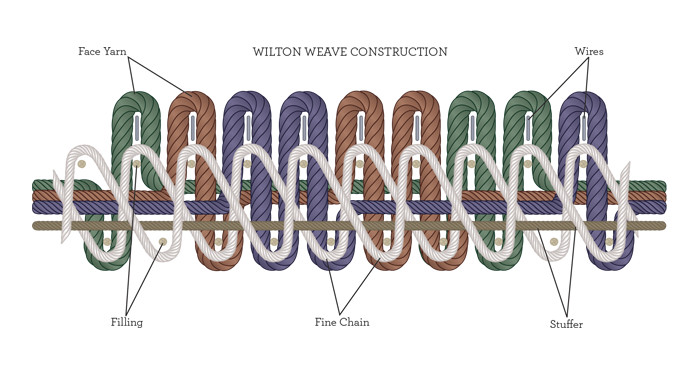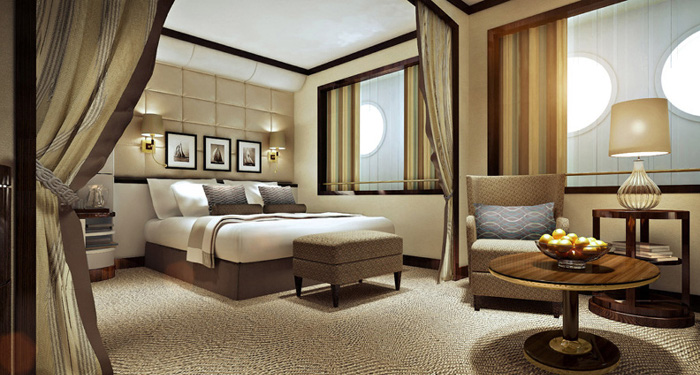 Its main attractiveness lies in the possibility of developing designs even in a single color with different cut and loop combinations. The carpet is no longer a plain fabric, but it acquires texture and becomes three-dimensional contributing a great personality to the room.
HAND TUFTED CARPETS
The Alarwool carpet collection represents the best of tradition and craftsmanship. 100 % handmade, they are the perfect luxury complement for any top-quality hotel that prides itself. Each carpet made is unique in the world and priceless, so the production is strictly manufactured to order, and according to the meticulous instructions of our customers.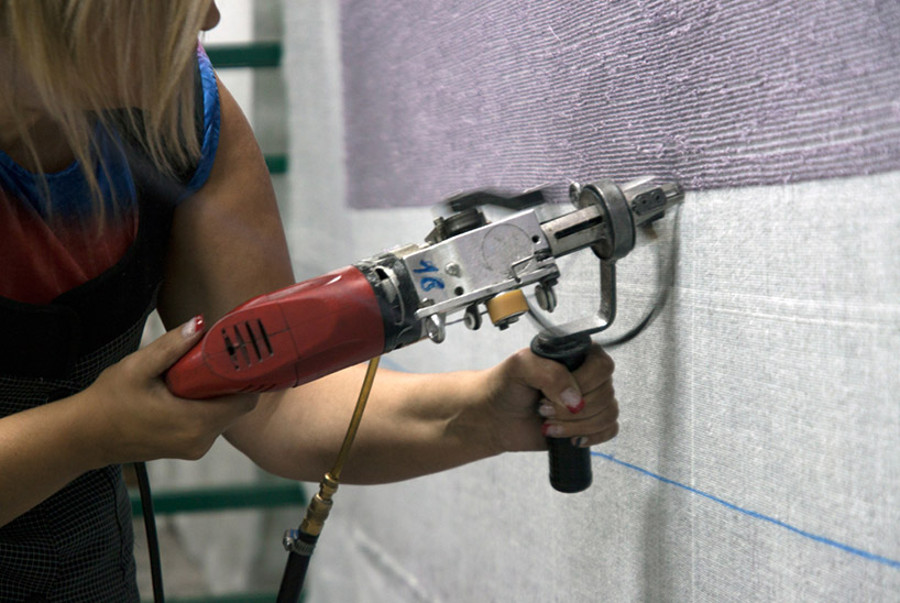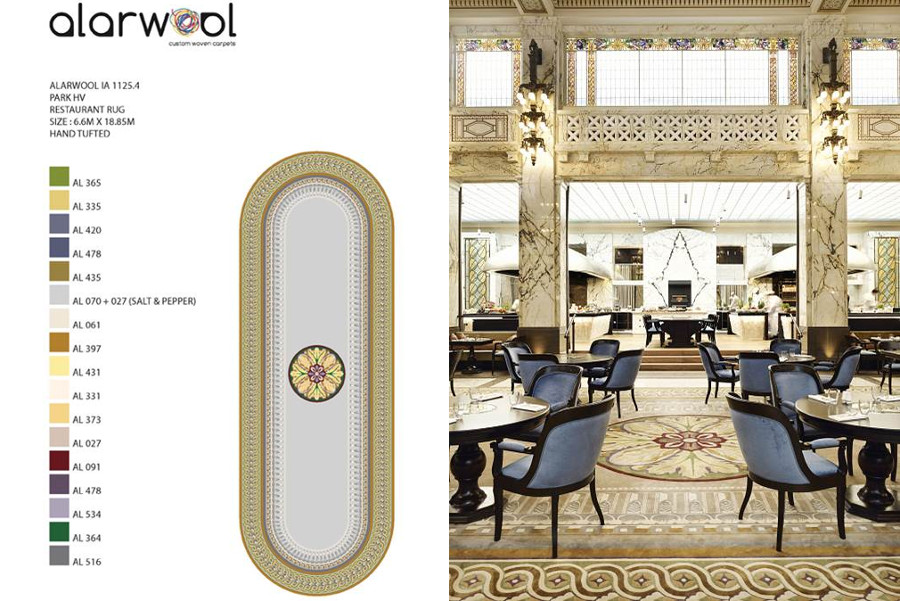 Made from pure wool of the highest quality, the possibilities are endless because there are no limits on size, number of colors and design. Among other things it is possible to mix different materials -such as viscose or silk-, perform cutting, loop, varying hair heights, carry out irregular or oval shapes, etc.