"Fingerprints" collection by Lorenzo Quinn and Alarwool.
Our fingerprints do not disappear from the lives we touch and they present a unique testimony of yourself.
This collaboration between Alarwool and Lorenzo Quinn brings you a unique and exclusive representation of acclaimed artist Lorenzo Quinn "Fingerprints" a limited collection of 50 hand-crafted rugs.
The rugs are produced with the highest quality craftmanship made with finest natural yarns of Silk and New Zealand wool.
Each unique rug incorporates a secure microchip on each of the 50 rugs in the collection as well as a Certificate of Authenticity signed by Lorenzo Quinn and Alarwool.
This exclusive limited collection has only 50 unique hand made rugs and will not be produced again.
The dimension of each rug can be customized to the required size.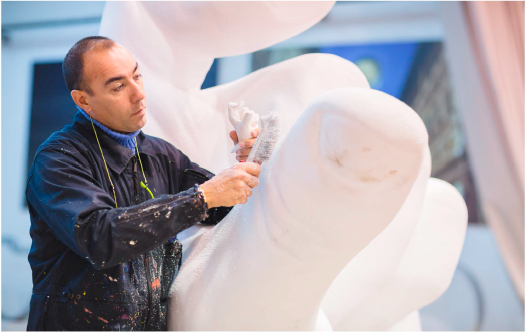 Contemporary Italian artist Lorenzo Quinn is a leading figurative sculptor whose work is inspired by such masters as Michelangelo, Bernini and Rodin. Ex­hibited internationally, his monumental public art and smaller, more intimate pieces transmit his passion for eternal values and authentic emotions. He is best known for expressive recreations of human hands. He asserts. 'The hand has being the basis for humanity's evo­lution and holds the power to commu­nicate, to give, to recieve, to love, to hate, to create and to destroy.'